INTRODUCING River North CrossFit
Meet the fitness experts ready to help you achieve your fitness goals.
ABOUT River North CrossFit
Our team of fitness and nutrition professionals are invested in your health. We make every decision with our members' well-being in mind. Achieve your goals with us!
COACH
Adam Kress
As a coach, Adam specializes in working with newer CrossFitters and gets great satisfaction in seeing how his athletes' hard work makes their lives better inside and outside of the gym.
Adam will never forget his first few CrossFit workouts, hooked from the beginning he read and watched everything he could about the training methods and the science behind them. Before opening River North CrossFit Adam was a state champion hurdler and won 4 Big Ten Championships while competing in track for the University of Wisconsin Badgers.
CERTIFICATIONS:
CrossFit Level 3 Trainer CrossFit Weightlifting Trainer CrossFit Gymnastics MobilityWOD Performance Precision Nutrition Level 1
COACH
Paige Lemley
Born in the Philippines, raised in Wisconsin, Paige grew up doing club gymnastics and soccer competing at the regional and national level.
During her years at the Milwaukee Institute of Art and Design where she earned her BFA in Interior Architecture and Design, Paige fell into a rut with working out at a traditional gym. After moving to Chicago to work for Kadlec A+D, she found CrossFit. Its community and gamification of the sport brought her back to her competition days and has had her glued since. After quickly integrating into the RNCF community, Paige will welcome you in with open arms no matter what level of experience you bring.
CERTIFICATIONS:
CrossFit Level 1 Trainer
COACH
Dom Comfort
A native of Peoria and former college football player, Dom is here to help you hit your fitness goals and have fun along the way.
To Dom, great fitness is an essential part of living life to the fullest. He found CrossFit in 2018 while living in Denver and immediately fell in love with the challenge, the community, and the pure effectiveness of it. Dom's goal is for everyone to leave the gym a little better than when they walked in.
CERTIFICATIONS: CrossFit Level 1 Trainer
COACH
Tom Lawrence
A nomad of the Midwest, Tom declares Minneapolis, Minnesota as his hometown but has lived in Chicago since 2009.
Tom found Crossfit in 2013 and fell in love with the competitive nature he missed after his time as a collegiate rower at DePaul University. Tom is beyond passionate about nutrition and fitness but finding balance is what he preaches most. His strength over most coaches is his ability to relate. He's been a coach, he's been coached, he's struggled with his own fitness journey, and he's exceeded his own fitness goals.
CERTIFICATIONS:
CrossFit Level 1
COACH
Adam Jones
A Green Bay Wisconsin native, Adam was an All-Conference basketball player for Concordia University.
COACH
Daniel Webb
Daniel started Crossfit in 2012 while living in Texas and was hooked from the word GO! He liked it so much he bought the gym!
Before CrossFit he played hockey, football, and ran track in high school. In college, he played football at a Division II school in Kansas for five years, where he was an all conference player for three years, as well as an All-American. After football Daniel was looking for a new workout that was different from his 9 years of just lifting heavy weights. Crossfit has given him a new perspective on being in shape. He looks forward to helping others set and achieve their goals!
CERTIFICATIONS: CrossFit Level 1
CrossFit Competitor's Course
COACH
Trishawn Jones
CERTIFICATIONS:
CrossFit Level 1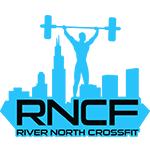 COACH
Damon Shalit
Growing up in Houston, Damon was a competitive soccer player. After graduating from UT-Austin Damon played semi-pro. He lives in the Gold Coast with his wife and children.
COACH
Wyatt Brunk
A native of St. Louis, Wyatt started CrossFit while he in high school. His brother told him it was too hard and that motivated Wyatt had to prove him wrong.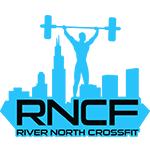 COACH
Kevin Cotter
My job is to make the class you're in the best hour of your day.
Book a Free Intro at River North CrossFit today. Chat with a coach to learn more about how we can help you reach your goals.